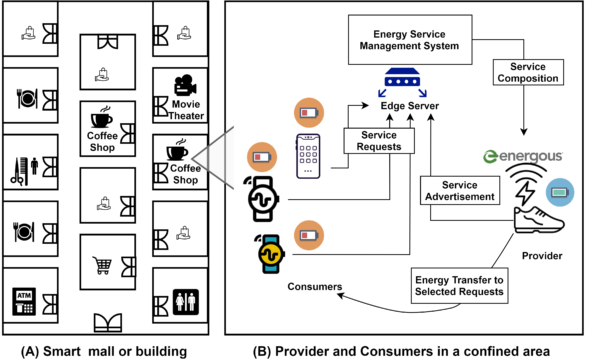 Amani Abusafia and Athman Bouguettaya.
Energy sharing service, also known as Energy-as-a-Service (EaaS), is defined as transferring wireless energy among IoT devices using the service paradigm. An energy provider is a thing that can share energy. An energy consumer is a thing that requires energy. Consumers and providers are owned by users. Energy may be harvested through wearables, e.g. smart textile or smart shoes. The project focuses on the selection and composition of energy service requests from the provider's perspective.
Publications
– Conferences:
– Demos:
– Journals:
In-Flight Energy-Driven Composition of Drone Swarm Services. Balsam Alkouz, Amani Abusafia, Abdallah Lakhdari, and Athman Bouguettaya. IEEE Transactions on Services Computing (2022).
---