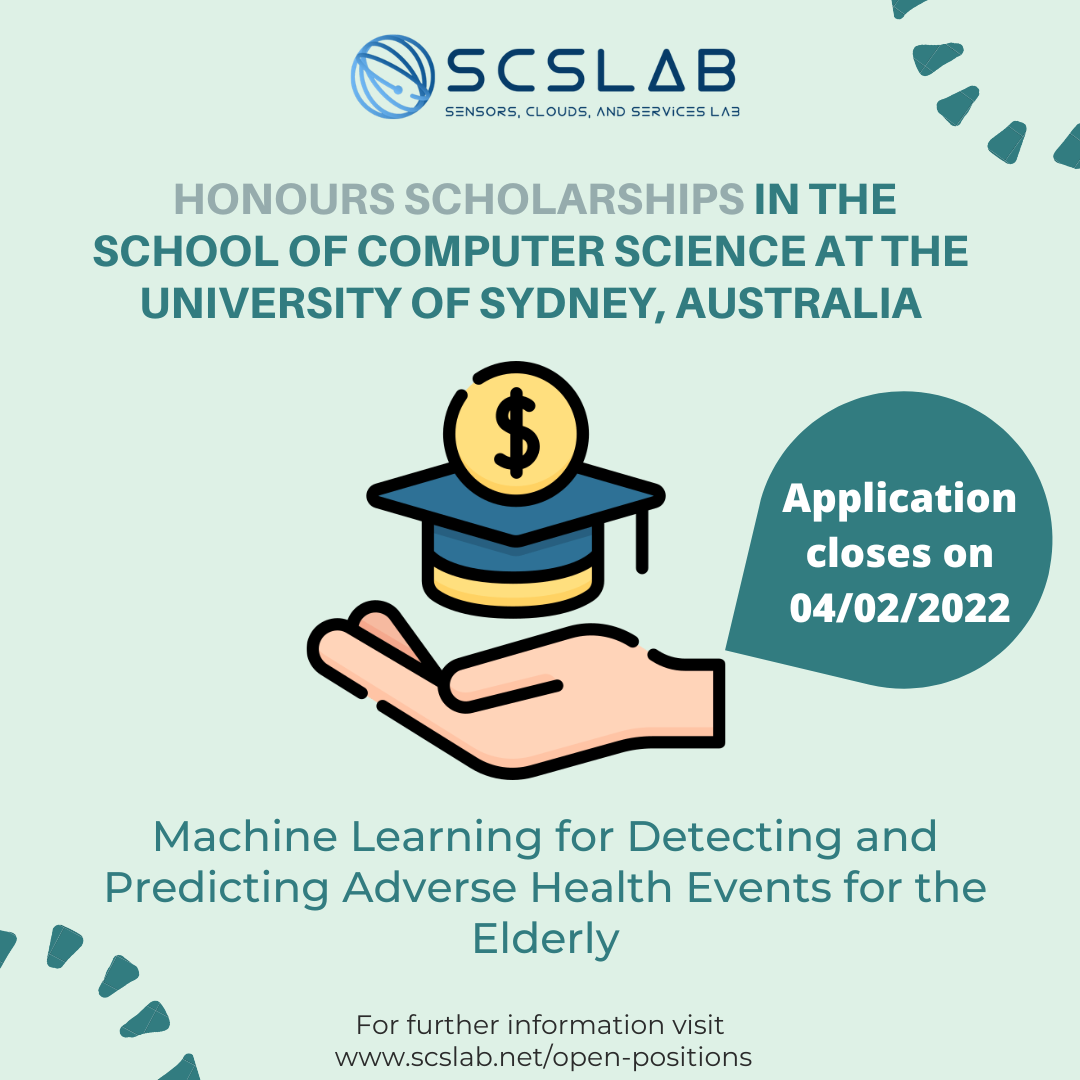 Honour Scholarships
Post by:

admin

January 22, 2022
Deadline has Closed
Honour Scholarships in the School of Computer Science at the University of Sydney (Sydney, Australia)
1. Background
The project leverages in-home behavioral data coupled with contextual data related to age group, ethnicity, and other parameters to provide a highly personalized detection and prevention of adverse events that negatively affect the quality of in-home aging. The study consists of analyzing individual and aggregate living patterns and activities of the elderly based on IoT data. The goal is to provide an efficient carer response protocol by developing machine learning algorithms for detecting and predicting adverse health events for the elderly in a non-obstructive way.
The successful applicants will be working in a world leading lab which focuses on the use of a range of techniques that span IoT and advanced machine learning techniques. Eligibility
You must:
be studying a standalone appended honours program at the University of Sydney, or
be studying the final year of an honours pathway program in the standalone or combined Bachelor of Advanced Studies in Semester 1 or 2 of the upcoming year by the closing date of the scholarship application.
Note: International students must have completed their undergraduate degree at the University of Sydney.
2. Selection Criteria
The successful applicant will be awarded the Scholarship on the basis of:
academic merit,
curriculum vitae, and
a personal statement which demonstrates their academic achievements, leadership experience, communication skills and interest in studying in the proposed honours Program.
3. Scholarship details
The Scholarship is valued at $6,000 per annum and is tenable for one year only.
The Scholarship annual value will be paid in two equal instalments after the census date of each semester.
The Scholarship cannot be deferred without prior approval of the Scholarships Office.
The Scholarship cannot be transferred to another course, faculty or University.
No other amount is payable.
The Scholarship will be offered subject to the availability of funding.
4. Submission deadline
The last day to apply is Friday 4/02/2022 at 17:00 AEDT
5. Further information
Prospective applicants are encouraged to send their CV, and transcripts, to athman.bouguettaya@sydney.edu.au.