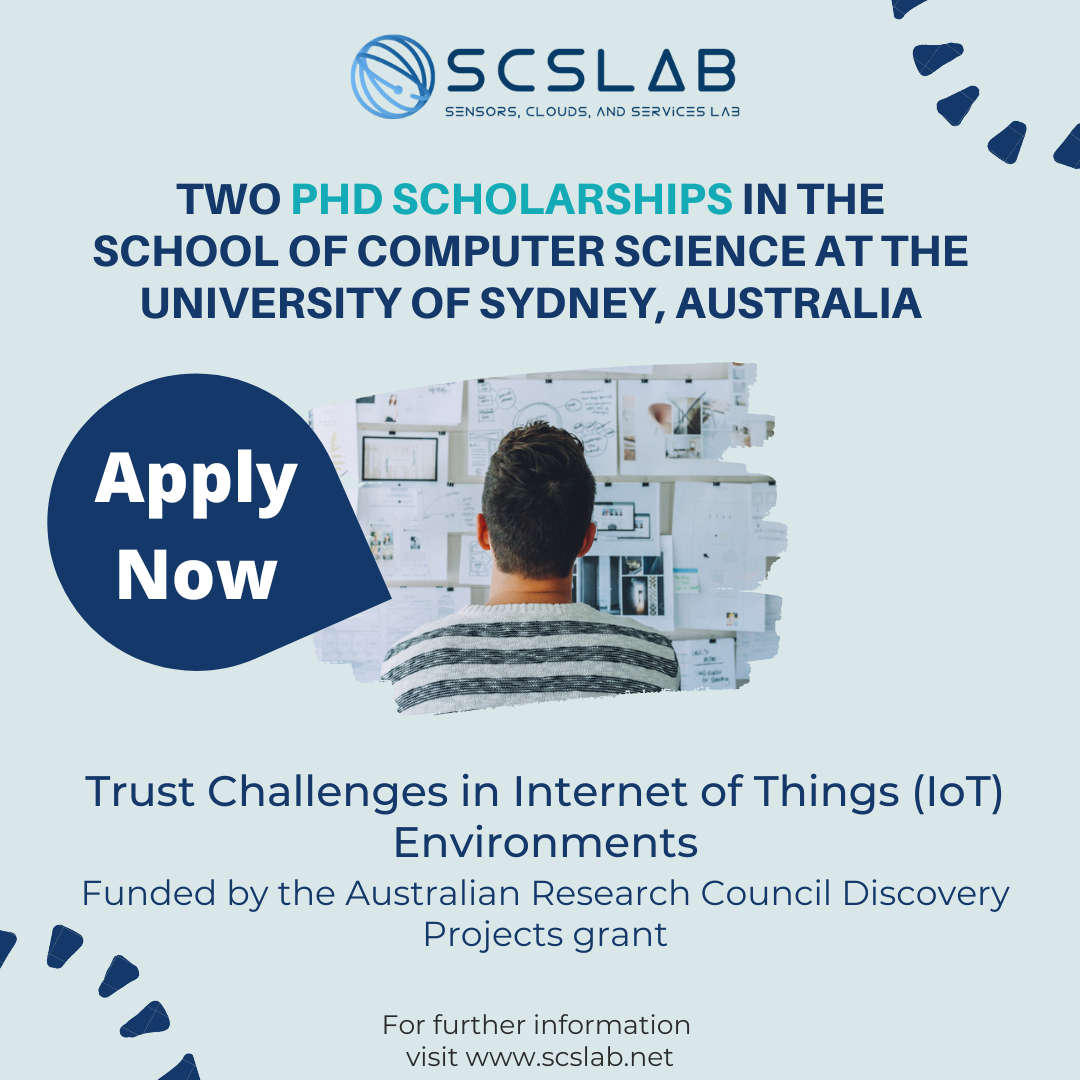 PhD Scholarships
Post by:

admin

January 22, 2022
Two PhD Scholarships in the School of Computer Science at the University of Sydney (Sydney, Australia)
1. Background
These PhD scholarships are funded by the Australian Research Council (ARC) Discovery Projects (DP) grant. The project's aim is to address the trust challenges in Internet of Things (IoT) environments, thus enabling the wide deployment of potentially billions of IoT devices. This project will generate new knowledge in the area of IoT Trust by developing novel techniques to establish trust in highly dynamic crowdsourcing IoT environments. The project's main outcomes include the development of a ubiquitous and adaptive multi-component trust framework reflecting trust perspectives. The developed solutions will allow the establishment of trusted interactions among crowdsourced IoT devices and wider deployment of convenient and just-in-time services, thus enabling the development of novel applications, such as the crowdsourcing of green energy.
The successful applicants will be working in a world leading lab which focuses on services, clouds, and sensors focusing on the use of a range of techniques that span IoT and advanced machine learning techniques. Further information about the research conducted in the lab can be found at: http://scslab.net
2. Eligibility
The Scholarships are offered subject to the applicants having an unconditional offer of admission for full-time enrolment in the PhD program.
https://www.sydney.edu.au/engineering/study/postgraduate-research.html
Applicants must also concurrently apply and be considered for the Research Training Program (RTP) Stipend Scholarships. RTP applicants will be automatically considered for the University of Sydney Postgraduate Awards (UPA). A separate application is not required.
3. Selection Criteria
• Background in the field of Computer Science or related field.
• Applicants must meet the University of Sydney PhD entry requirements
• Excellent academic merit, research proposal, or other evidence of research potential.
• Capacity to think creatively in terms of concepts and theories
• Ability to conduct empirical and analytical research
• Strong communication skills.
4. Responsibilities
• Conduct research (theoretical and experimental) as part of a world leading research group to make important contributions to IoT-related research
• Publish your research results in top international conferences and journals
• Supervise undergrad students and interns
5. Our offer
• The opportunity to become part of a creative team at a top university and one of the most liveable cities of the world.
• A competitive stipend for a PhD student at a AUD 35,000.
6. Further information
Prospective applicants are encouraged to send their CV, transcripts, proof of English proficiency (e.g., IELTS), and research experience to athman.bouguettaya@sydney.edu.au.